Pain-free

Data Scraping
Harness the power of data without the complexities associated with conventional web scraping techniques.
Leverage AI for Data Extraction
Rely on ChatGPT to mine data from any website. Simply specify what to extract using plain text, no need for delving into CSS selectors or XPaths.
No Need for Coding Expertise
Our intuitive interface ensures a smooth data scraping experience, irrespective of your level of technical expertise.
JavaScript-enabled Page Downloads
Utilize your own browser to download pages, even those that necessitate JavaScript for rendering.
How It Works?
Just 4 straightforward steps.
1. Enter URLs
Input the URLs you aim to scrape data from.
Supply URLs through CSVs, Google Sheets, or plain text

You can upload a file or paste the URLs directly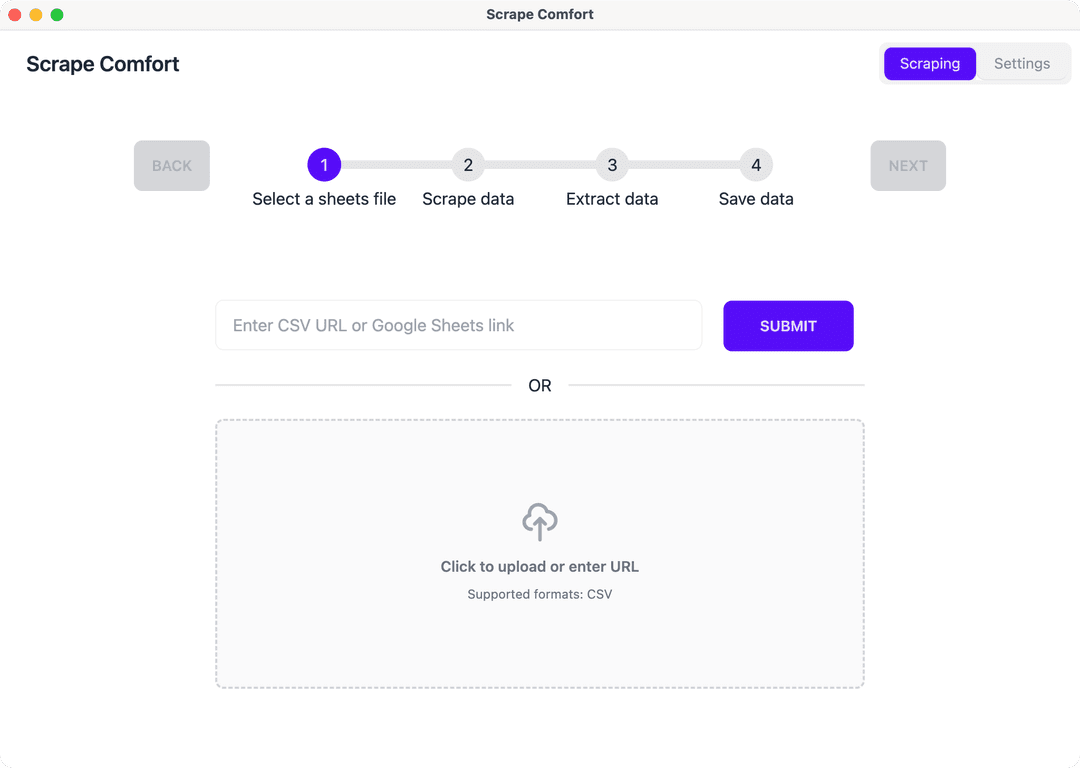 2. Download Data
Download the data from the entered URLs.
Use JavaScript in your local Google Chrome browser to download data

Keep track of the download progress

You have the option to display or hide the browser during the process
3. Set Up Extractors
Specify the data you want and run the extractor.
Add a new extractor via a dropdown menu with just a click

Define in simple, human language what data you need to extract from the downloaded pages

Monitor the extraction progress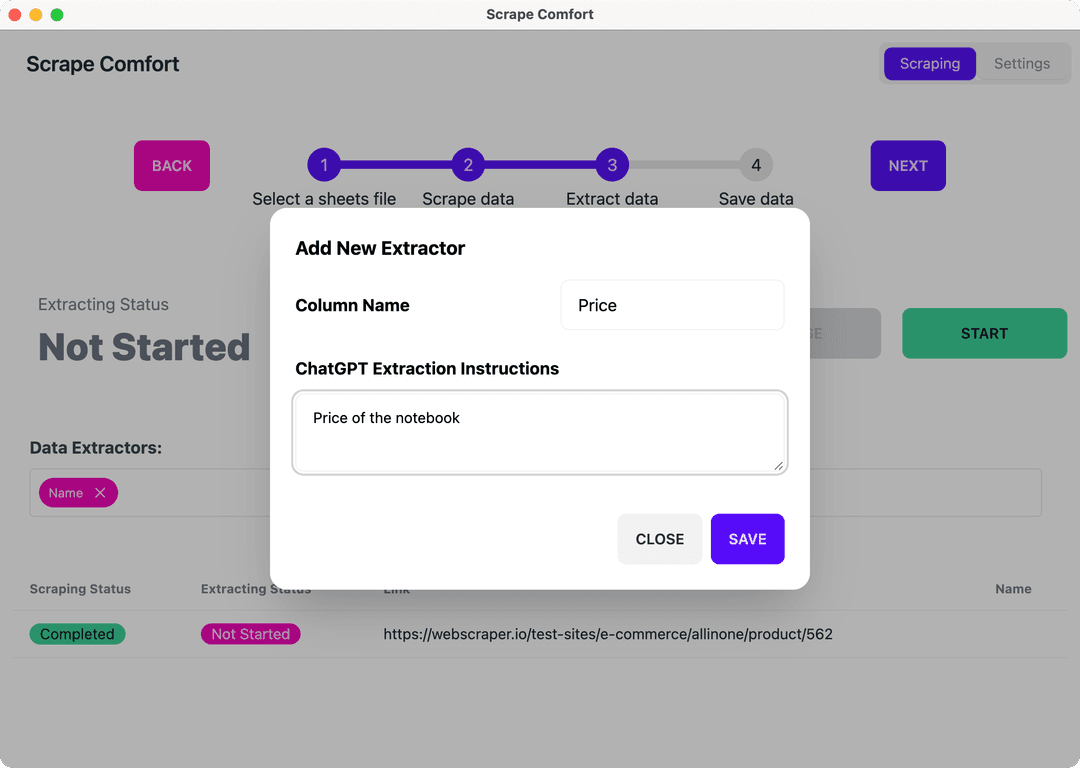 4. Save Data
Preserve the extracted data in a file or clipboard for immediate use.
Instantly use the data in Google Sheets by copying it to your clipboard

Store your data in a CSV file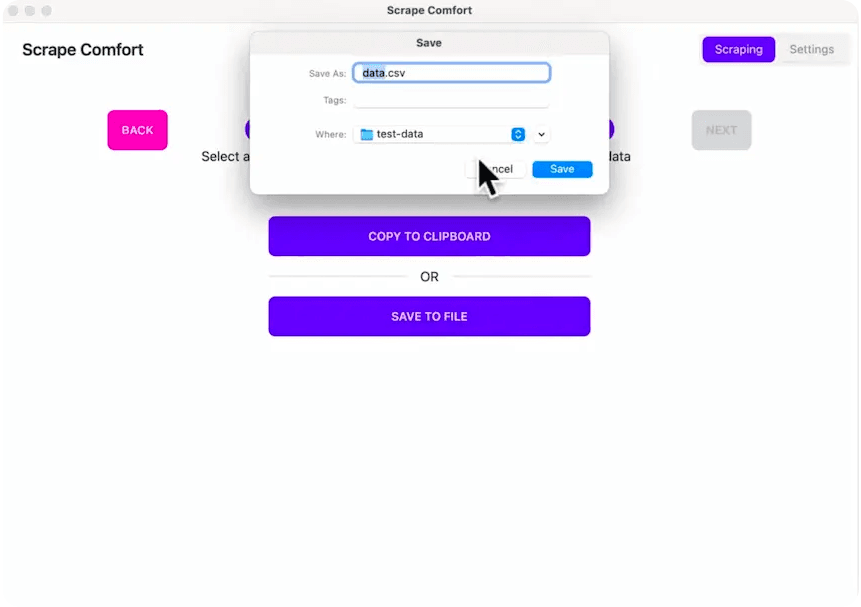 Applications
Whether it's data analysis or e-commerce, ScrapeComfort is equipped to handle your needs.
Data Analytics
Automate your data collection process for research or data science projects, allowing you to shift your attention towards extracting meaningful insights rather than gathering data.
Market Investigation
Get an edge over your rivals by scraping product information from various online marketplaces for competitive assessment and pricing strategy development.
Lead Acquisition
Seamlessly accumulate leads from multiple sources, bolstering your sales and marketing initiatives.
What Our Users Say
See how ScrapeComfort is making a difference in our users' lives.
I've been using ScrapeComfort for a couple of weeks and I'm quite impressed. The AI data extraction is smart and saves a lot of manual adjustment. I'm looking forward to seeing how it enhances my work.
As a recent user of ScrapeComfort, I must say its ease-of-use stands out. The AI takes care of data extraction, and I can focus more on my strategy. Early impressions are very positive.
ScrapeComfort's AI data extraction is a game changer. In just two weeks, I've seen it enhance my lead generation process. Plus, the scraper is really user-friendly, even for a non-techie like me.
Pricing Plans
Choose a plan that best suits your data scraping needs.
Free
Use ScrapeComfort for free. No credit card required. Ever.
Use your own browser

Use your own OpenAI key

Data export

Basic support

Scheduled jobs

Smart downloader and cost-optimized AI

Dedicated server
Cloud
Comfortable web data scraping.
Use our servers

Use our specialized AI

Data export

Full support

Scheduled jobs

Smart downloader and cost-optimized AI

Dedicated server
Enterprise
For large-scale data scraping needs.
Your own server

Use our specialized AI

Data export

Premium support

Scheduled jobs

Smart downloader and cost-optimized AI

Dedicated server
Experience ScrapeComfort
Download and discover effortless data extraction.
Frequently Asked Questions
Have more questions about ScrapeComfort? We've got you covered. If you can't find what you're looking for, feel free to reach out to us at the chat widget on the bottom right.
Is there a requirement for technical skills to operate ScrapeComfort?

Not at all, ScrapeComfort is engineered to be intuitive and user-friendly, with no necessity for any coding skills.
Why is there a need to provide an OpenAI Key?

ScrapeComfort utilizes the OpenAI API for AI-powered data extraction from web pages. While the application is free, an OpenAI account and corresponding OpenAI key are needed for AI-driven data extraction capabilities.
From which sources can ScrapeComfort extract data?

ScrapeComfort is capable of scraping data from any URL that's accessible via your web browser.
Is my OpenAI key shared with your servers?

Absolutely not, your OpenAI key remains stored on your local machine and is used solely for sending requests to the OpenAI API. We do not store or transmit your OpenAI key to our servers.
How to get an OpenAI key?

You can read more about getting an OpenAI key here: https://scrapecomfort.com/docs